This 1913 Sun Precision arrived in our workshop pretty complete, but in a very sorry state as the photos show.
The bike has tremendous history, dating back to the Great War and we are currently working hard to track down the details of the soldier who abandoned it, untouched since 1914. We believe he may have been stationed working on the railways in France.
The Sun Precision motorcycle was donated to the Museum Trust by a Mr Evan Charles Williams of Norwich.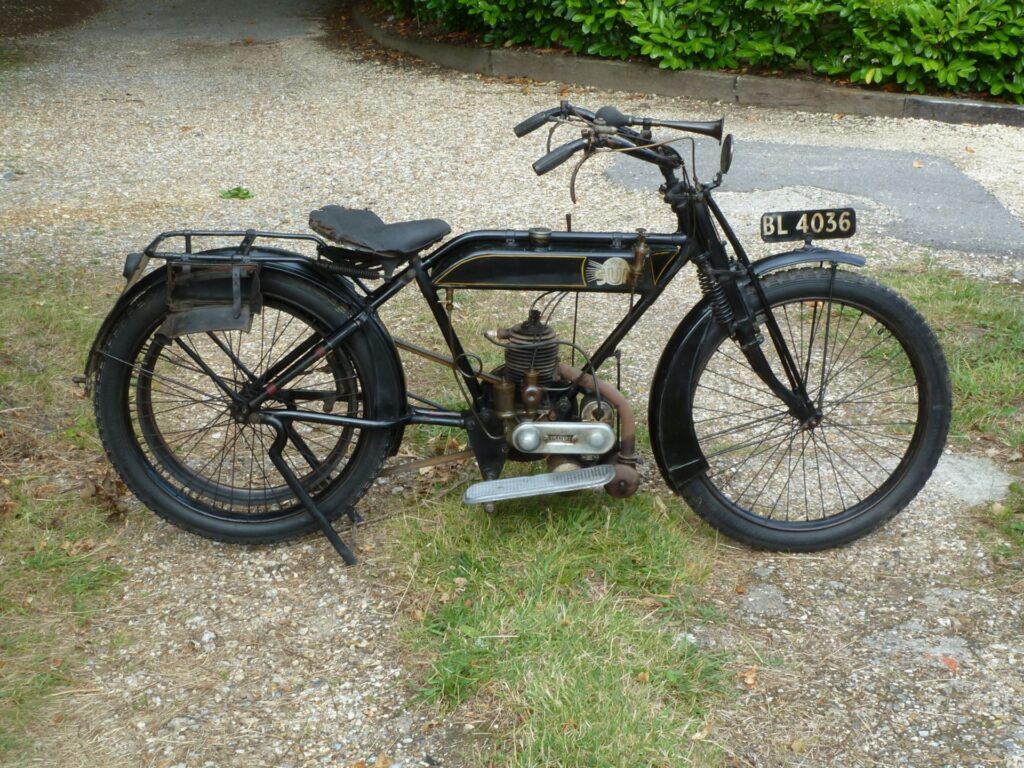 Mr Williams inherited the bike from his mother's cousin, Cora Lockwood, who lived with her family in a confectioner and taxidermist shop. One of a row in Bridge Street, Fakenham, Norfolk. Now the site of a municipal car park.
In 1913, aged 20, Cora had a boyfriend who was called up. Before he left for the front, he immobilised the bike, leaving it in a shed in her garden. We believe he may have worked on the railways as the shed was made entirely of sleepers and was securely screwed and nailed shut. These sleepers did a wonderful job of protecting the bike from the worst of the elements over the years it was in storage.
He returned from war to reclaim his motorcycle and to marry Cora. However, her father would not allow the marriage, which was not uncommon in those days, and he left without the bike or Cora.
Cora never married and would allow no one near the shed until she allowed the bike to be passed on to Mr Evan Williams in 1960, some 46 years later and unseen in all that time.
When the bike was finally uncovered, it was found to have a number of parts missing.  Not least, pedals to start the bike.
No work would start on the bike until 2001. A more thorough appraisal was undertaken at this stage and a decision was made to assemble the bike to run, but not to be roadworthy. Any parts fitted could be removed without damaging the originality.
The frame was found to be out of line and was straightened using belt centres as datum, so enabling a belt to be used as a slipping clutch. The rear hub had been locked.
This was dismantled and found to be a Villier's clutch and freewheel unit, with clutch plates and springs which could have been operated by a device similar to a modern handlebar speed selector.
This utilised a further set of opposing springs – an engineering nightmare!
The rear rim was straightened using the original spokes.
To facilitate starting the engine, pedals and sprockets were added using the locked rear hub and belt drive. The substantial rear stand would also be incorporated.
Cora's memories of running alongside the bike to start it and jumping on would seem to agree with the original mods.
A promise was made to Cora that the bike would be treasured and rebuilt, and to that end it has been kindly donated to the Sammy Miller Museum Trust.
Since arriving to us, the Sun has been painstakingly returned to its former glory by Jim Devereux, Sammy's chief mechanic.
Back in 1913, prices ranged from £44 10s 0d for affixed engine model to £53 10s 0d for a Three speed free engine model.
Precision Engine 587cc
Single Speed
Grado Multi Pulley Clutch
1½ Gallon Tank
½ Gallon Oil Tank
Lycett Saddle
Made in Aston, Birmingham